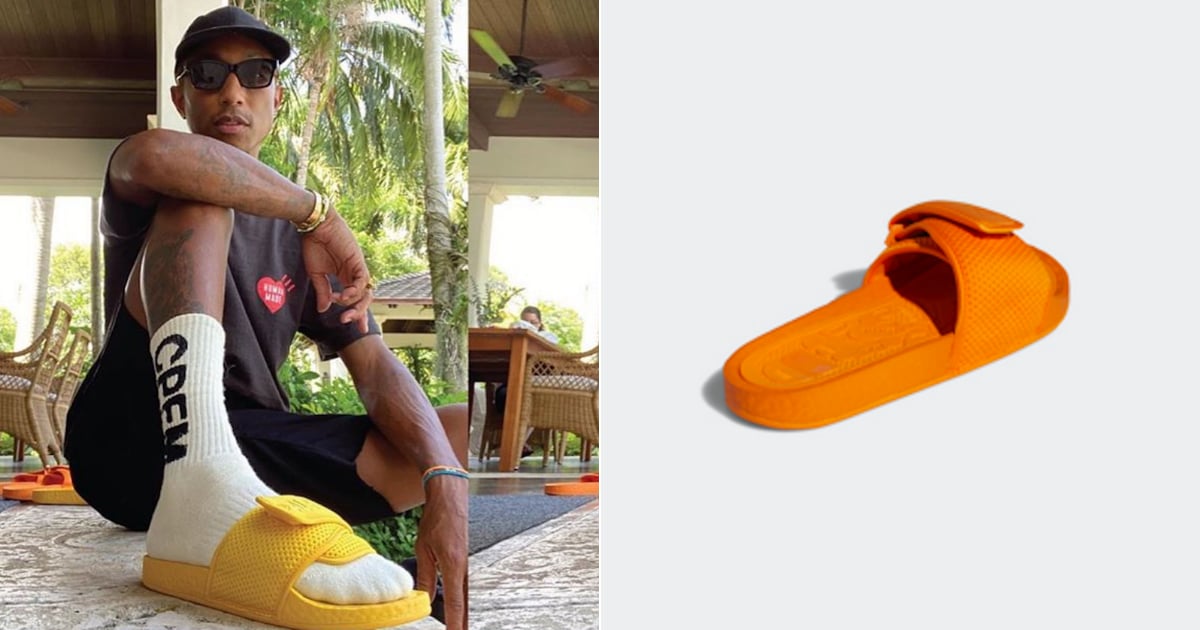 Pharrell Williams has been collaborating with Adidas since 2014, around the time he reportedly dreamed up these colorful slides that provide maximum comfort. Clearly, we all know they're not the only slide out there for summer 2020, but we expect the hype over these in particular will be something to talk about, given the singer and Hollywood star's famous brand of athleisure and his 12.5 million Instagram followers, who he shared this preview with to announce the exciting news.
The shoe, called the PW Boost Slide, is a new take on the brand's adilette with extra padding on the midsole and upper and an adjustable strap. What makes these slides different than the others you've seen or likely walked in? "[Comfort] is the one thing that gets overlooked when it comes to sports slides. It is always about how much a brand can save and how much of a profit margin can they garner by just throwing something in some regular old mold. These are different because they were crafted with the expressed intention of making every step comfortable," Pharrell told Vogue.
Even though the orange, pink, and black colorways will be available on August 1 at adidas.com/pharrell and other selected retailers, it appears Williams got his hands on a highlighter yellow version — or perhaps he crafted these just for himself and the sake of his selfie. Whatever the case, time will certainly tell how in-demand these slides become, and what new colorways may be introduced down the line. Scroll down for an all-angles view.